At Savvy, we make creating a winning gift card programme a reality. We don't believe in one-size-fits-all solutions. With Savvy, you can build your gift card programme exactly the way you want to in order to drive your business forward.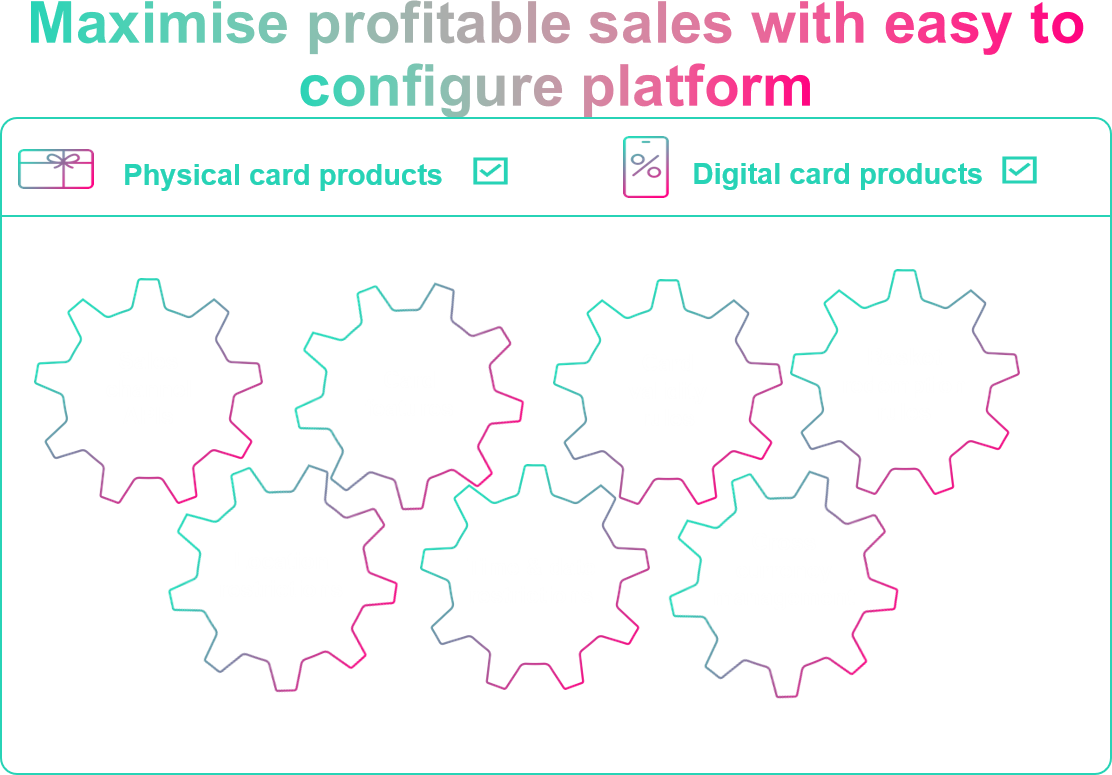 What can Savvy's Platform do?
In today's consumer landscape, one-dimensional gift card programmes simply cannot keep up with the competition. If you are feeling a little restricted, it might be time to make the switch. So, how exactly can you build the perfect gift card programme with Savvy? Our platform offers a wealth of configurations that allow you total flexibility to ensure it's doing what you need it to do.
Set bespoke rules and restrictions on how your gift cards can be used in order to optimise how your gift card programme works for you.
Depending on your commercial and marketing requirements, you can set any of the following configurations:
Sales channel connections
Card features (digital/physical)
Card validity rules
Location restrictions
Time and date restrictions
Cross-currency management
Basket redemption rules
What's the use in offering you incredible configurations and opportunities for your gift card programme if the platform we offer is complex and difficult to navigate? Savvy's platform is built with you in mind so that you can make changes and review performance quickly and efficiently.
Following a straightforward demonstration to highlight the features you will find the most invaluable, you'll have the confidence to utilise our platform to its max potential and create a winning gift card programme.
Do you have absolute control of your gift card programme? With Savvy you can. Our multiple redemption and usage rules including where your gift cards are sold, where and when they can be redeemed, how long they are valid for and what they can be redeemed against mean your gift card programme can be built exactly to your needs.
Whether you want to ensure that cards cannot be redeemed on sale items or you want to reduce gift card spending to off-peak periods in order to encourage sales in slower months, Savvy's flexibility and control lends itself to a host of benefits, including the ability to reduce your margin erosion and balance your costs.
Savvy's configurations solve your business pain points
At Savvy, we're committed to providing you with gift card solutions that solve your business pain points. That's why we're different to other gift card management providers.
But what exactly can our platform configurations do?
It's not unusual for gift cards to be sold at a discount, with the load value sitting higher than the purchase value. It can then be frustrating when they are redeemed against sale items, eating away at your margin erosion.
With Savvy, you can set bespoke rules such as location restrictions, basket redemption and time and date restrictions to ensure that cards you sell to specific sales channels during promotional periods can only be redeemed during specified timeframes. In turn, you enjoy little to no margin erosion and a healthy return on investment.
Battling with balancing costs during off-peak times? There's no need for quiet periods to kill your business. Savvy's redemption rules can give your gift card programme a boost.
Whether you're a restaurant trying to fill tables or a hotel trying to fill rooms, choose when gift cards can be redeemed to protect your off-peak periods and offset your running costs.
Your gift card promotions shouldn't lose you money – fact. That's why Savvy allows you to control costs by applying a variety of rules that will limit exposure whilst maximising sales opportunities.
Apply card validity rules, time and date restrictions, basket rules and sales channel rules to keep your gift card promotion costs in check. Also, with Savvy's real-time analytics, you can view how a promotion is performing and make necessary tweaks to your strategy to optimise performance.
Going global is never a problem with Savvy. Set cross-currency management rules so that your customers can buy and spend across your international locations. Why limit your gift card to one location? Savvy allows your customers the freedom to spend anywhere in the world.
Our platform enables redemption and sales across multiple countries whilst offering real-time exchange management and live currency conversion rate management.
Today's customer is part of an omnichannel revolution. Are you meeting their needs by allowing them to redeem both online and in-store? Mono channel gift card programmes are officially outdated.
With Savvy, you can be more customer-centric. We give you the opportunity to allow your gift cards to be bought and redeemed in a multitude of channels. We also understand that you want to continuously connect with new customers and new ways of getting your gift card into the hands of the people who will spend on them. That's why Savvy's API gateway is connected with 150 sales channels across B2C third-party, B2B direct and B2C third-party. We give you the scope to reach new channels and in turn, new heights.
Frequently Asked Questions
Savvy's build-it-your-way flexible approach enables us to configure our solutions in line with your business needs, providing exceptional service and cost-saving opportunities.
We offer bespoke pricing, depending on your requirements. Book a meeting with us today and let's talk about how we can help. From there, we can provide a quote and explain how we can save you money in the long run.
No, it's a lot easier than you think! Savvy Is already integrated with over 150 different third-party platforms meaning that the IT impact on your business may be a lot less than you think. In many cases we are able to connect directly into existing POS and EPOS system interfaces, eliminating any disruption to front-line staff.
Savvy can provide our solution as a PaaS model, enabling you to host and manage the software or we can provide outsourced processing – whatever is best for your business needs.
Yes, we run demos to show all prospective customers what our easy-to-use platform can do, so you can experience the features for yourself before you commit.